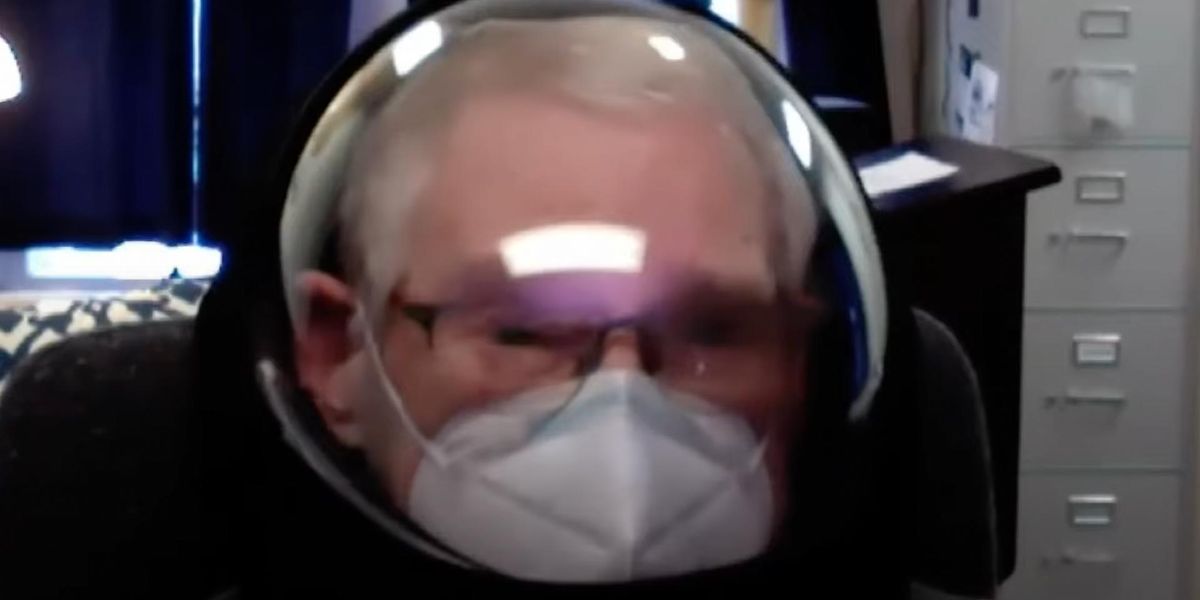 A tenured history professor at Ferris State University in Big Rapids, Michigan, has been suspended after he issued profane remarks to students via a video conferencing session, Inside Higher Ed reports.
What are the details?
Professor Barry Mehler, age 74 — wearing space helmet-styled getup covering a face mask — was seen during a semester introduction video saying that he wouldn't kowtow to a "c**k sucker of an administrator" trying to tell him how to teach his classes.
"I'm a f***ing tenured professor," he said. "So if you want to go complain to your dean, f*** you. Go ahead. I'm retiring at the end of this year, and I couldn't give a flying f*** any longer."
After he took the face coverings off, he jokingly introduced himself as an alien visiting earth and noting that the "intergalactic internet is all abuzz about this planet," where suffering is said to be "through the roof."
"I don't know whether you people have noticed, but it's dangerous to breathe air," he said. "Many of your experts are advising wearing masks because there's a deadly virus spreading around the planet. Your civilization is collapsing and life on your planet is going extinct."
Following his introduction, Mehler added that students could work as hard as they wanted in his class or not, since he randomly chose their grades.
"None of you … are good enough to earn an A in my class," Mehler said in the video. "So I randomly assign grades before the first day of class. I don't want to know [anything] about you. I don't even want to know your name. I just look at the number and I assign a grade. That is how predestination works."
Mehler pointed out that he will at some point have no choice but to return to the classroom in order to teach but implored students not to join him due to the ongoing COVID-19 pandemic, assuring them that they'd be able to fully participate in class via Zoom.
"You people are just vectors of disease to me, and I don't want to be anywhere near you. So keep your f***ing distance. If you want to talk to me, come to my Zoom," he said. "When I look out at a classroom filled with 50 students, I see 50 selfish kids who don't give a s**t whether Grandpa lives or dies, and if you don't expose your grandpa to a possible infection with COVID, then stay the f*** away from me. If you don't give a s**t about whether Grandpa lives or dies, by all means, come to class."
He added that there's just "no benefit whatsoever" to attending in-person classes.
"I will not take questions in class, because I'm wearing this f***ing helmet in order to stay alive," he added. "So please come. Enjoy the show. I'll be there regularly, because I have no choice. You, on the other hand, have a choice. Thank you very much."
Mehler's union, according to the report, now says the history professor's suspension is an attack on academic freedom.
(Content warning: Rough language):

Week I Gen Intro 010922

www.youtube.com

What else is there to know about this?
According to a report from the Washington Post, Mehler's video has been viewed more than 200,000 times since he posted it on Sunday.
Administrators at Ferris State University placed Mehler on leave while they carry out an investigation into his remarks.
Charles Bacon, president of Ferris State's faculty union, said that the union considers Mehler's suspension to be an "attack on academic freedom and a part of the continued attempt nationally to enforce uniformity on faculty and intimidate higher education faculty by suppressing intellectual discourse."
"I assure you, Barry did not have a breakdown," Bacon said. "In fact, his style, which he developed over the last decade, is to be controversial in order to challenge students' inherent mental models and biases. It is something that we all strive to do."
He added that Mehler's classes are always "extremely popular" in particular because he "challenges students' assumptions and makes the class extremely interesting."
"In fact, we have had administrators visit his class and come away with statements like, 'I wish I'd had a professor like you when I was in college,'" Bacon added.
University President David Eisler told the outlet that he was "shocked and appalled" by Mehler's conduct in the video.
"It is profane, offensive and disturbing and in no way reflects our University or its values," he said through a school spokesperson.
The outlet reported that Mehler did not respond to the outlet's request for comment in time for publication.

Ferris State University professor put on leave after profane video to students circulates online

www.youtube.com

window.REBELMOUSE_LOWEST_TASKS_QUEUE.push(function(){
//Facebook Pixel Code !function(f,b,e,v,n,t,s) {if(f.fbq)return;n=f.fbq=function(){n.callMethod? n.callMethod.apply(n,arguments):n.queue.push(arguments)}; if(!f._fbq)f._fbq=n;n.push=n;n.loaded=!0;n.version='2.0'; n.queue=[];t=b.createElement(e);t.async=!0; t.src=v;s=b.getElementsByTagName(e)[0]; s.parentNode.insertBefore(t,s)}(window, document,'script', 'https://connect.facebook.net/en_US/fbevents.js'); fbq('init', '1398069580413568'); fbq('track', 'PageView');
});
window.REBELMOUSE_LOWEST_TASKS_QUEUE.push(function(){
function menuClick() { console.log("clicked");
if (document.querySelector('.hambg-btn.js--active') != null) { document.getElementsByClassName('huge-menu')[0].style.display = 'none'; document.getElementsByClassName('hambg-btn')[0].classList.remove('js--active'); document.body.classList.remove("huge-menu-opened"); document.body.classList.remove("menu-opened"); } else{ document.getElementsByClassName('huge-menu')[0].style.display = 'block'; document.getElementsByClassName('hambg-btn')[0].classList.add('js--active'); document.body.classList.add("huge-menu-opened"); document.body.classList.remove("menu-opened"); } }
function addMenuClickListener() { var rebelMenu = document.getElementsByClassName('rebelbar__menu-toggle'); var menuClose = document.getElementsByClassName('hm__close'); var stickyMenu = document.getElementsByClassName('sticky-menu');
rebelMenu[0].addEventListener('click', menuClick);
if(menuClose[0] != undefined){ menuClose[0].addEventListener('click', menuClick);}
if(stickyMenu[0] != undefined){ stickyMenu[0].addEventListener('click', menuClick); } }
addMenuClickListener();
});
window.REBELMOUSE_LOWEST_TASKS_QUEUE.push(function(){
window.REBELMOUSE_STDLIB.loadExternalScript("https://assets.adobedtm.com/98de9919e92a38033805f9f035c43198533e4380/satelliteLib-38c7b1e4b1bb3e0378e82d10601662aebfb04eda.js", function() {
window.analyticsData = { events: {active: {view: {asset: {}}, device: {}}} }; window.analyticsData.events.active.device.appVersion = "1.1"; window.analyticsData.events.active.device.host = "premiere.off.us"; window.analyticsData.events.active.device.subHost = "theblaze.com"; window.analyticsData.events.active.pageName = "articles"; //window.analyticsData.events.active.view.asset.id = "articles|"+ __BOOTSTRAP__.post.basename; window.analyticsData.events.active.view.asset.name = document.title; //window.analyticsData.events.active.view.authorId = __BOOTSTRAP__.post.original_user_subsite.title; window.analyticsData.events.active.view.pubDate = "01/14/2022"; window.analyticsData.events.active.view.contentOriginType = "Premiere"; window.analyticsData.events.active.view.stationCallLetter = "TheBlaze"; window.analyticsData.events.active.view.stationFormat = "NEWSTALK"; window.analyticsData.events.active.view.stationMarket = "PREMIERE"; window.analyticsData.events.active.view.personalityId = "theBlaze"; window.analyticsData.events.active.view.tags = ["barry-mehler", "face-to-face", "in-person-learning", "virtual", "ferris-university", "barry-mehler-professor"]; window.analyticsData.events.active.view.photoGalleryExists = "FALSE"; window.analyticsData.events.active.view.photoGalleryPageView = "FALSE"; window.analyticsData.events.active.view.contentFrame = "page"; window._satellite && _satellite.pageBottom();
});
});
window.REBELMOUSE_LOWEST_TASKS_QUEUE.push(function(){
function test_adblock(func, id) { var t="0.1.2-dev", el = document.createElement('div'); el.id = id ? id : 'sponsorText'; el.appendChild(document.createTextNode(' ')); Object.assign(el.style, { left: '-999px', position: 'absolute' }); document.body.appendChild(el); setTimeout(function() { if (el) { var o = el.clientHeight === 0; func(o, t); document.body.removeChild(el); } }, 200); } test_adblock(function(is_blocked) { console.log(is_blocked); var wid = is_blocked ? 140286 : 140117, target = document.getElementById('rc-adblock-widget'); var el = document.createElement('div'); el.setAttribute('data-rc-widget', ''); el.setAttribute('data-endpoint', 'trends.revcontent.com'); el.setAttribute('data-widget-id', wid); target.appendChild(el); if (typeof window.renderRCWidget !== 'function') { var script = document.createElement('script'); script.src="https://assets.revcontent.com/master/delivery.js"; script.defer = true; target.appendChild(script); } else { window.renderRCWidget(el) } });
});
window.REBELMOUSE_LOWEST_TASKS_QUEUE.push(function(){
(function(s,u,m,o,j,v){j=u.createElement(m);v=u.getElementsByTagName(m)[0];j.async=1;j.src=o;j.dataset.sumoSiteId='f20bb26e74a94a53daa9113206b98941e1dfba90635d317b9efd9e33a89bf515';v.parentNode.insertBefore(j,v)})(window,document,'script','//load.sumo.com/');
});



View original Post